Willa Rose Updates - Willa Rose is the daughter of sangha member Jody Held and husband, Jim Frankenberger.
Jackie Thomas Updates - Jackie Thomas is a facilitator and long-time member of the LCML.
Ben Dawson's Journey - Here's a note from sangha member, Ben:
I wanted to let you know I made it California and I'm having a great time. Its quite beautiful out here and they have a great library full of many Buddhist texts I've been reading and learning a lot. I documented my journey out west through photos so if the sanhga would like to see it here is the link (see above). I hope everyone is doing good and I miss you guys. I will try to keep you guys up to date on my goings on as much as I can.
Tri-State Dharma
- Ron Marstin has more information about this group.
Interfaith Paths To Peace Group in Louisville - Holds various events and programs throughout the year to promote peace and understanding.
Buddhist Groups in Louisville, KY
(Prepared By Rich White 2-13-12)
Drepung Gomang Institute
,
Tibetan Buddhism
@ Tashi Gomang Dharma Center
411 North Hubbards Lane, Louisville, KY
http://www.drepunggomang.com/
Mindful Recovery of Louisville,
Buddhism and the 12 Steps
3050 Bon Air Ave, Louisville, KY 40205
http://www.facebook.com/mindfulrecovery
Louisville Vipassana Community, Insight Meditation
@ Clifton Unitarian Church,
2231 Payne Street, Louisville, KY
http://www.louisville-vipassana-community.org/#
Louisville Zen Group, Zen Meditation
@ Yoga East
1125 East Kentucky Street, Louisville, KY
http://www.louisvillezen.org/
SGI –USA (Soka Gakkai International)
Buddhist Association for Peace, Culture and Education
@ 1930 Bardstown Road, Louisville, KY 40205
The Vietnamese Buddhist Association of Louisville
4600 South 6th Street at Ashland Ave, Louisville, KY
http://pluralism.org/profiles/view/74436
Peace and Compassion Buddha Circle
Community of Mindful Living
1544 Quadrant Avenue, Louisville, KY 40205
Email: brozier@bellsouth.net
Tradition: Vietnamese Zen of Thich Nhat Hahn
Affiliation: Unified Buddhist Church
Teacher: Bronson Rozier, Lay Brother of the Buddhist Order of Interbeing
Also, there is no active Shambala group currently in Louisville.
The Louisville Zen Group
The Louisville Zen Group is a meditation practice community affiliated with the Rochester Zen Center headquartered in Rochester, New York. Since our inception in 1999, the mission of the Louisville Zen Group has been to provide support in strengthening Zen practice, deepening insight, and developing a zazen temper of mind that will carry throughout daily life endowing one with greater zest, clarity, and stability. To this end, we offer beginning meditation instructions, group practice, discussions, and live and recorded Zen commentaries.
Meetings are held on Sunday evenings at Orbis Yoga Studio in the Clifton Center at 2117 Payne Street, Suite 301 . The Clifton Center is located off Frankfort Avenue at the corner of Clifton Avenue and Payne Street . More detailed directions to the Clifton Center may be found at their website (www.cliftoncenter.org). There are multiple parking lots at the Clifton Center and many entrances to the building. If possible, park in the main lot (which is on the corner of Clifton Avenue and Payne Street ), then enter the building through the Main Entry. Take the elevator or stairs up to the 3rd floor and go to Suite 301 . There will be signs to direct you.
For more information, contact Jeanette Prince-Cherry at 800-716-0645 or
JeanetPr@aol.com.
Thich Hang Dat's Friday Evening Mediation Group: (from Terri Bennett)
411 Hubbards Lane off of Westport Road. It used to be an old Kingdom Hall and looks like a ranch house. Parking is in the back and meditation begins at 6:30 PM. We are done around 8 PM after 30 minutes of seated (on a chair) meditation followed by 15 minutes of walking meditation.

Before we leave, Thich Hang Dat explains about meditating.
*******************************
GreenList Louisville: There is a growing movement in Louisville committed to a local and sustainable lifestyle. There are lots of people just beginning to come on board. There are resources available if you know where to look or know the key words to search online. And of course there is word of mouth…Now all we need is a way to pull this together. One place to list it all.
*******************************
Archives
This meditation course is recommended solely by Jackie Thomas (jacktho@insightbb.com) Comment by Jackie: Even though this course is taught from a Christian perspective, most precepts of Buddhism are addressed, too.
MEDITATION FOR BEGINNERS
This class is for those interested in learning or becoming re-familiar with the practice of meditation. It includes: basic instructions in a method of Christian insight meditation; the psychological and scriptural underpinnings of the practice; a map of the inner world; and guidance for applying these teachings in daily life. Meditation is taught as a way of self discovery and accessing the Kingdom of Heaven within.
Current Offering for Beginners– Encountering the Inner Christ

Saturday, February 7, 2009 – 9:00 a.m. to 3:30 p.m.
Orientation to Meditation (prerequisite for Wednesday classes)
Ten Wednesday classes: Feb 11, 18, 25,Mar 4, 11, 18, 25, Apr 8, 15, 22 from 10:00 a.m.–11:30 a.m. OR 7:00–8:30 p.m.

The same class will be presented mornings and evenings.
Participants can arrange to attend either session.

Text: The Kingdom Within by John Sanford
For more information: contact Ms. Terry Schuhmann at the Passionist Monastery at 451.2330 weekdays between 9:00-3:00 OR email earthandspirit@passionist.org.
Passionist Earth & Spirit Center, 1924 Newburg Road • Louisville, KY 40205
Suggested donation: $125. No one will be refused for lack of funds.
Ongoing:
Thich Nhat Hanh's Website (www.plumvillage.org)
Peace and Compassion Buddha Circle
Ten Thousand Buddhas Summit Monastery
Jack Lawler's sangha, Lakeside Buddha Sangha of Evanston at www.lakesidebuddha.org.

Orbis (located in the facility that our sangha meets in on Sunday) supports personal and spiritual growth and development by teaching body centered awareness through yoga, Feldenkrais, and meditation.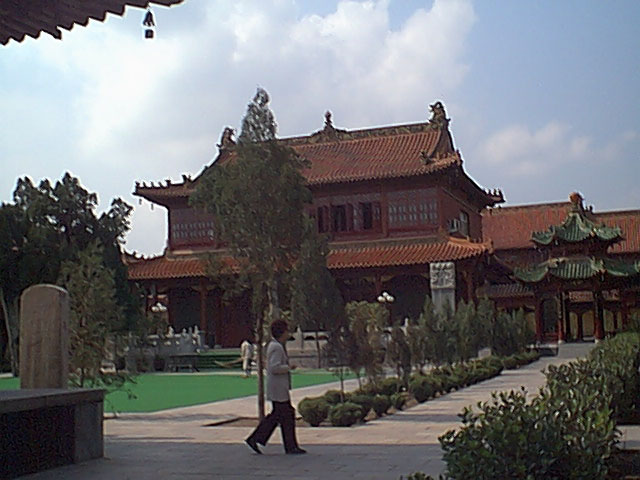 Buddhist Monastery Grounds, China